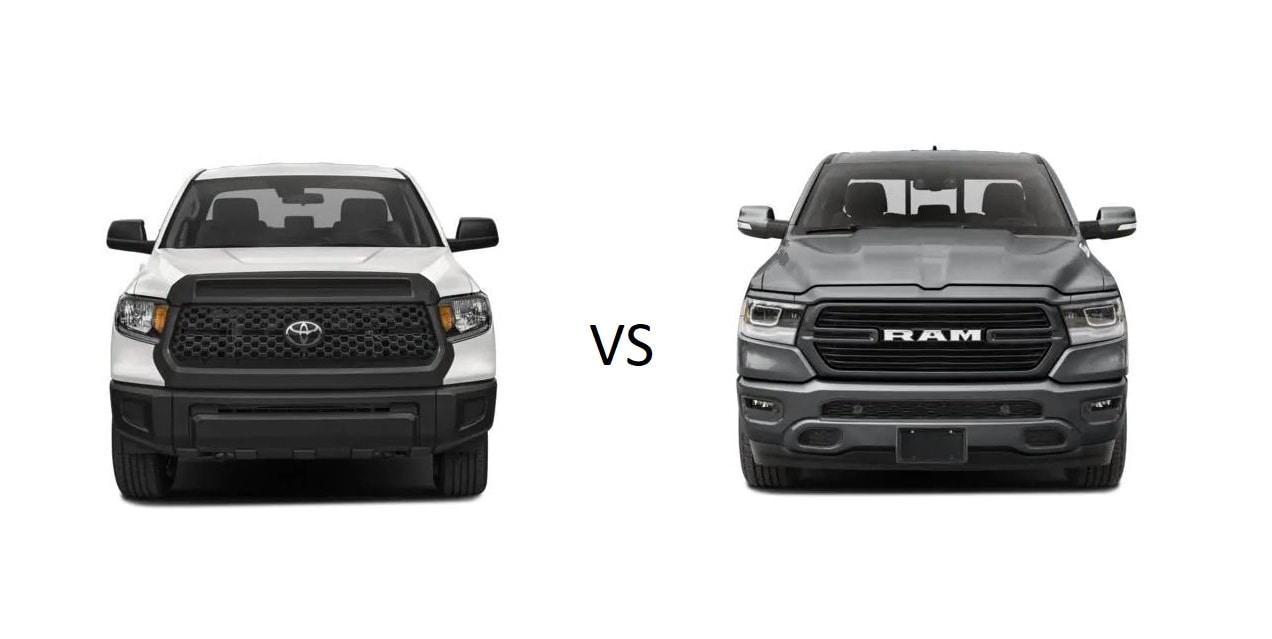 Toyota Tundra VS RAM 1500
The Toyota Tundra Is Safe, Reliable, and Economical
If you're looking for a full-size pickup truck that's safe, reliable, and has an easy-to-use infotainment system, the Toyota Tundra is your best option. Drivers in the Redding, Red Bluff, and Chico, CA areas will like the Tundra's spacious seats, outstanding predicted reliability rating, and abundance of standard safety features. Some people may tell you that the similarly-sized Ram 1500 is a better truck, but here at Lithia Toyota of Redding, we think you'll agree that when all aspects are taken into consideration, the Toyota Tundra is the superior overall vehicle.
Compare the Toyota Tundra with the Ram 1500
The New Toyota Tundra Has More Standard Safety Features: Both the Toyota Tundra and the Ram 1500 are safe pickup trucks, but the Toyota Tundra has many standard safety features that you'd need to pay more to have on the Ram 1500. This includes driver assistance features like adaptive cruise control, lane departure warning, forward collision warning, and pedestrian detection. To have all those features on the Ram 1500, you'd need to buy one of the higher trims.
The Toyota Tundra Is More Reliable: For smoother operation, better efficiency and fewer moving parts, the engines in the Toyota Tundra have an overhead cam design, rather than the old pushrod design of the 5.7-liter V8 in the Ram 1500. Nobody wants to be stranded or to be without transportation while their vehicle is being repaired. Consumer Reports rates the Tundra's reliability 66 points higher than the Ram 1500. From surveys of all its subscribers, Consumer Reports ranks Toyota vehicles second in reliability. Ram is ranked 29th.
The Toyota Tundra Offers Better Fuel Economy: The Toyota Tundra and the Ram 1500 get similar gas mileage, but the Tundra uses regular gasoline, while the Ram 1500 with the 5.7-liter V8 engine requires mid-grade gas for maximum efficiency, which can cost 5 to 40 cents more per gallon.
The Toyota Tundra Has a Better Warranty: Both the Toyota Tundra and the Ram 1500 have decent warranty coverage. However, Toyota pays for scheduled maintenance on the Tundra for 2 years and 25,000 miles, including oil changes, lubrication and any other required maintenance. Ram doesn't pay scheduled maintenance for the 1500.
Lithia Toyota of Redding Has a Full Line of Toyota Tundra Pickup Trucks
If you need your pickup truck to be a reliable every-day vehicle, you'll want a Toyota Tundra. The Tundra has one of the best predicted reliability ratings among full size trucks, with a 4.5 out of five rating from J.D. Power. It also offers the security of more standard active safety features than most of its rivals. People in the Shasta Lake and Anderson, CA areas shop from a full line of Toyota Tundra pickup trucks at Lithia Toyota of Redding. Come see us and test drive one today.
Hours
Monday

8:30 am-8:00 pm

Tuesday

8:30 am-8:00 pm

Wednesday

8:30 am-8:00 pm

Thursday

8:30 am-8:00 pm

Friday

8:30 am-8:00 pm

Saturday

8:30 am-8:00 pm

Sunday

9:00 am-6:00 pm