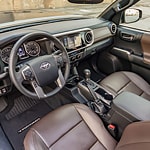 When you're in the Toyota Tacoma, you're behind the wheel of a truck that has numerous features that can keep you and your family safe on the road. Safety Sense is a package designed with numerous features in one so that you're aware of the area around your truck when you're on the road in Redding.
If there is a pedestrian in front of your vehicle, the Pre-Collision Warning System will alert you so that you can come to a safe stop as the brakes are automatically applied. Lane Departure alerts you if you stray from the lane you're traveling in so that you don't encounter other vehicles.
While you're driving at night, your high beams will turn on automatically if there is nothing on the road in front of you. Radar Cruise Control can adjust your speed based on the driving conditions and your surroundings. Lithia Toyota of Redding can show you how to adjust the speed yourself as well.