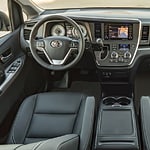 The 2020 Toyota Sienna is a minivan that is popular. It has the ability to seat up to eight people. People like the design of the minivan. They also like the fact that this vehicle comes with a lot of comfort and convenience features.
It will be easier for you to keep your guests entertained because this vehicle has a Dual-View Blu-ray Disc Entertainment Center. It has a screen that has the ability to either split into two images or one large image. It also comes with two wireless headphones.
Driver easy speak is another feature that comes with this vehicle. This feature makes it easier for you to communicate with people who are in the back seat. It has a microphone that will easily transmit your voice to the back seat. All you have to do is touch the button on the screen. You can test drive the vehicle at the dealership.